RV Carports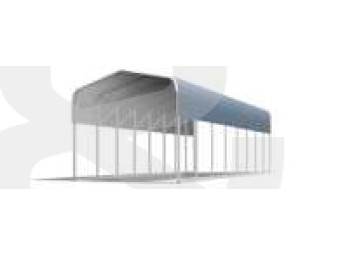 C & H Carports supplies superior quality metal RV carports to East Texas, Western Louisiana, and Southeast Oklahoma. Our customers tell us that we provide exceptional service and value compared to those larger, national carport companies. With more than 20 years of experience in the industry, we strive to provide a quality, durable structure that best provides a solution for you! Whether you are in need of a metal RV cover for your RV or motor home, shelter for your fifth-wheel camper or travel trailer, or a taller metal carport shelter for your pontoon boat that provides shelter and protection for your recreational craft, we can customize a structure that's just right for you. All of our RV ports and other products feature FREE delivery and FREE installation on your level, unobstructed job site.
---
Regular Carport: 12' Wide x 36' Long x 12' Tall
Call for Price: 877-687-1999
Vertical Roof Carport: 24' Wide x 41' Long x 12' Tall
Call for Price: 877-687-1999
Vertical Roof Carport: 20' Wide x 36' Long x 10' Tall
Call for Price: 877-687-1999
Vertical Roof Carport: 18' Wide x 31' Long x 9' Tall
Call for Price: 877-687-1999
Vertical Roof Carport: 18' Wide x 36' Long x 10' Tall
Call for Price: 877-687-1999
Vertical Roof Carport: 18' Wide x 36' Long x 12' Tall
Call for Price: 877-687-1999
In addition to providing the best carports in Sealy, TX and in surrounding cities in Austin county, we also provide RV shelters, enclosed metal garages, prefabricated metal buildings, barns, and workshops to San Antonio, TX, Houston, TX, Corpus Christi, TX, Austin, TX, Katy, TX, Rosenberg, TX, Richmond, TX, San Filipe, TX, Frydek, TX, Rexville, TX, Peters, TX, Clemons, TX and other cities and communities in the Lone Star State. Customers in the area love our durable steel structures, which feature a 14 gauge or optional 12 gauge galvanized, tubular steel frame that is rot, fire, and pest resistant. Our 29 gauge galvanized steel panels can handle the varied Texas heat and storms. We also have a heavier 26 gauge option for those customers that want a more durable exterior steel panel. Both non-certified and engineer certified (rated for wind and snow) are available in widths up to 24'. All units wider than 24' are engineer certified. If your area's building inspections department requires a building permit, you would need an engineer certified unit. We offer widths from 12' wide to 40' wide and side heights up to 14'. For steel buildings and structures that are fully enclosed, we offer roll-up doors in a variety of widths and heights, as well as personnel/walk-in doors, and windows.
Ordering Metal Carports for Sealy, TX 77474
Getting a metal building from C&H Carports is simple and easy. Most customers visit one of our knowledgeable carport dealer representatives to place their order. Their staff will work with you to ensure that you get the right car port, enclosed garage, barn, or other building that you need. Those dealers can provide you with the most current carport prices and options. Once you have selected the unit that you need, the dealer collect a small down payment to get your order started and they will forward your order to our East Texas manufacturing. The staff at C&H Carports will contact you to ensure that your order is to your specification and once that is confirmed, we will begin the manufacturing process. We build the unit in our plant using efficient modular manufacturing methods and we inspect each process that you receive the highest quality unit. Once the unit is built to your specifications, we contact you to schedule delivery and installation. Almost always, from start of order to installation, it usually take from two to four weeks. We do experience higher demands and certain times of the year. For detailed information and the most accurate installation lead times, contact your C & H Carports dealer or contact us directly.
Installation and Delivery
On the day of installation, the crew will arrive to install your unit. Generally, we schedule for morning, mid-day or afternoon. We don't specify and exact time as weather or other unexpected conditions may impede the crew's progress. The job site should be free from obstructions (unless pre-approved in advance), should have no overhead utility lines within 12' of the site, and no underground utilities lines, unless they are well marked. The crew will begin to erect your structure. Installation is usually quick and efficient because of the modular construction methods used. As always, please call us for additional questions and assistance.